* Σύμφωνα με δημοσίευμα του AppleInsider η Apple ψάχνει να αποκτήσει σημαντικές ποσότητες εξαρτημάτων LED flash.
* Οι ποσότητες αυτές θα διανεμηθούν πιθανόν στο νέο iPhone ή ακόμα και στο νέο iPod touch. Οι πληροφορίες μιλάνε για παραγγελίες δεκάδων εκατομμύριων κομματιών για παράδοση μέσα στο 2010 ενώ πιθανότερος προμηθευτής φαίνεται να είναι η Philips Lumileds Lighting. O ιδιαίτερα αυξανόμενος ανταγωνισμός από παρόμοια smartphones όπως το Droid και το Nexus One που φέρουν κάμερες των 5MP με υποστήριξη LED flash φαίνεται να είναι η αιτία για την κίνηση αυτή της Apple.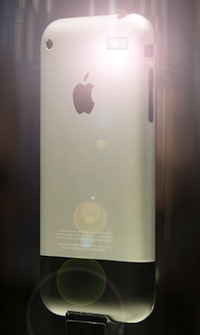 * Mια άλλη πληροφορία πριν λίγες εβδομάδες έκανε λόγο για μια μαζική παραγγελία της Apple στην OmniVision Technologies για την κατασκευή και προμήθεια αισθητήρων για κάμερα 5MP, πιθανότερα για το επόμενης γενιάς iPhone.
Apple has moved to obtain large quantities of LED camera flash components, according to an AppleInsider report.
The site has learned that Apple is seeking allotments of LED camera flash components in the tens of millions for delivery during the 2010 calendar year. Due to their sales volume the iPhones and maybe even the iPod touch are the most likely recipients.
Their same sources believe that the Philips' Lumileds Lighting sector may have already secured the win for this contract.
Its thought that Apple will use the Philips LUXEON LED camera flash technology which combines the brightness of regular lighting with the long life and tiny size of LEDs. This technology is commonly used with 5+ megapixel cameras and has successfully shipped over 200 million units worldwide.
The LEDs could also be used to provide light for video recording and flashlight applications.
Via iclarified.com

tsthebest

Moderator





Posts

: 6


Join date

: 2010-01-11


Location

: Veria,GR



Άντε να δούμε! Δεν παλεύεται η φωτογραφική του iphone το βράδυ!

+1

tsegman

VIP





Posts

: 3


Join date

: 2010-01-11





Similar topics
---
Permissions in this forum:
You
cannot
reply to topics in this forum